Disaster-Proof your Updates
We get so excited when it's time to upgrade a software application, operating system, or an entire computer. Yeowsa! A brand spanking new toy!
Here are some tips to keep your sanity during the upgrade.
Don't upgrade until you're ready to.
Or until it has a new tool or utility you need to do your job. (Accessibility is on the fast track right now at both Microsoft and Adobe.) Read everything below before you click the magic "upgrade" button.
Don't upgrade immediately when the new version first released.
No matter how well we beta-testers test the pre-release versions, it takes a week or 2 for users in the open forums to spot the major problems. Let the dust settle for a few days and check the forums to see the scuttlebutt in the online chatter:

Adobe community help forums: https://community.adobe.com

Adobe UserVoice: https://indesign.uservoice.com/ and https://acrobat.uservoice.com/

Microsoft community forums: https://answers.microsoft.com/en-us

Shoot us a quick email and ask us if you should upgrade, or if there's anything of value in the new version. talentedfolks@pubcom.com

When the upgrade is made, be careful about opening existing documents.
Tools and features change with the new software version so expect text and graphics to re-flow in Word and InDesign files. Take a few minutes to review the entire file for items that changed.
Don't switch to a new version of software in mid-project.
Or on deadline. Unless you have a damn good reason to, like a new feature you need for accessibility, and you're prepared for the consequences.
Take extra care when upgrading your operating system (Windows or Mac).
Be sure to back up your system as well as your files. If you're an Apple devoté , it's time to use your Time Machine and iCloud account to back up everything. Windows-ites should back up their systems to their MS OneDrive or other cloud storage. Here's a good, short article about backing up computers: https://www.howtogeek.com/242428/whats-the-best-way-to-back-up-my-computer/ And everyone should have a spare 1-2 TB external hard drive for this task. We find good values at www.Costco.com.
Download new drivers before upgrading the operating system.
Changing your operating system will affect your drivers, the small software apps that make your peripherals work with your main computer. Be prepared and download updated drivers for your monitors, printers, scanners, mice, keyboards, and other "stuff" you plug into the ports on your computer. Check the manufacturers' websites for their latest drives for your new operating system. Download the drivers before you upgrade the operating system and store them on a USB flash drive so that you can install them into the new operating system. (Hint: sometimes it takes a couple of months for them to retool the drivers for a new OS, so there's another reason to hold back on upgrading too soon.)
CYA. Cover your "anatomy."
Keep a version of your in-process files that were made with the older software so you can drop back and recover gracefully if needed. And then open a copy of your working file in the new program, not your original version or your only version.
Back up your assets.
Make sure you have back-up copies of your fonts, stock photos, and other digital assets used in design and publishing. Even those that came "free" with Windows, Apple, and Adobe software because newer versions don't have the same package of fonts as older versions.
Daily backups.
Regardless of what version you're using now or upgrading to, always make backup copies of your INDD, Word, and PowerPoint files when you close up for the day. File / Save As, and give your working file an iteration number, such as myproject_v6.docx. Not only does this 1 minute task help to keep your files from becoming unstable (corrupted), but you also have a fall-back version if you need to recover. When the project is done, delete all the older versions and keep just the last one or two final versions.
Plan to futz.
If you're updating one software program, it will take a hour or two for you to reload your preferences and get the software set up to your usual workspace and settings. If you're upgrading to a new operating system (major upgrade, not a minor update), you'll need much more time to install the new drivers for your peripherals (see #6 above) and restore your working files from your backups. You'll be futzing with your computer for several hours over a few days.

PubCom creates solutions for accessible documents
We're technologists for accessible design and publishing. We help agencies, academics, authors, designers, and publishers build accessibility into their documents from start to finish.
Our courses on Sec. 508 topics are the best-in-class, but we also offer training in traditional desktop publishing, digital media, and office documents.
Our consulting services can help you develop an accessible workflow that works.
We also provide remediation services for your existing documents, but we prefer to "teach you how to fish" and make your documents so accessible that they don't need remediation.
We've been in the publishing industry for eons and our first classes in accessible documents were held in 2001, soon after Sec. 508 went into effect and WCAG 1 was released.
Summary: we know publishing, from editorial to design to distribution. And we focus on helping you maximize your technology, streamline your workflow, and seamlessly build accessibility into your publishing workflow.
Sign up for our upcoming classes or we can bring a custom curriculum to your agency that can train your writers, editors, desktop publishers, and webmasters.
We're committed to making documents accessible for the nearly 35% of our fellow citizens who have disabilities that make it difficult for them to use computer technologies. .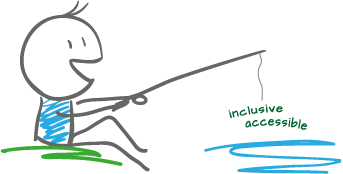 We teach how to make your documents accessible.
Let us know how we can help you fish!

— Bevi Chagnon
CEO and Founder, PubCom