How to Make Accessible Footnotes in Adobe InDesign CC
These demonstration files use Adobe InDesign CC:2019 in order to create a fully tag, accessible PDF with footnotes.
By Bevi Chagnon, PubCom
April, 2019
This mini-tutorial shows how to add footnotes to an InDesign layout, and how the final tags and tag reading order should be in the exported accessible tagged PDF.
The tutorial instructions are in the files themselves.
Adobe InDesign CC:2019 layout file (both INDD and IDML).

Ver 1 of a PDF exported from InDesign.

Ver 2 of a PDF exported from InDesign, where the tags were adjusted in Acrobat for better accessibility.
Download a ZIP of these files and examine them in InDesign and Acrobat Pro DC.
Open both PDF versions and compare their tag structure and reading orders. Version 2 is the preferred reading order.
PubCom teaches accessible documents
PubCom has a full array of courses on not just Sec. 508 topics, but also traditional desktop publishing, digital media, and documents.
We started offering accessibility training in 2001, soon after Sec. 508 went into effect and WCAG 1 was released.
Our publishing and design training goes back even earlier to the Pleistocene epoch of digital publishing when Ventura Publisher and Aldus Pagemaker ruled the planet.
Summary: we know publishing, from editorial to design to distribution. And we focus on helping you maximize your technology, streamline your workflow, and seamlessly build accessibility into your publishing workflow.
Sign up for our upcoming classes or we can bring a custom curriculum to your agency that can train your writers, editors, desktop publishers, and webmasters.
We're committed to making documents accessible for the nearly 35% of our fellow citizens who have disabilities that make it difficult for them to use computer technologies. .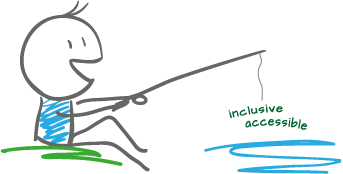 We teach how to make your documents accessible.
We teach how to fish!

— Bevi Chagnon
CEO and Founder, PubCom