A Section 508 Strategy
Which software, tools, methods, standards, and workflow should you use?
You'll probably get quite a few opinions about this topic. The standards themselves are in development and will be for some time in the future.
I'm going to take an analytical viewpoint, point by point, of what you need to consider for your accessible documents.
Key factors
1. The user experience
The experience a 508 tester or AT user will have when reading a PDF can be due to the PDFs themselves, not necessarily their assistive technology. The quality of the PDF (and therefore, how easy or difficult it is to tag it or remediate it into compliance, and also how well it will work for our users) depends upon several factors:
How the document was constructed in the source program.
How it was converted to a PDF from the source file (example, using the Acrobat PDFMaker plug-in gives a different result than using File/Print To PDF).
The source program itself and its version (example, Word 2007 doesn't convert certain items correctly to PDF while 2016 does).
The actual tool or utility used to create the PDF from the source file.
The skill level of the person who creates the source file.
The skill level of the person who is checking and remediating the PDF file.
Summary: Compare and examine your PDF files objectively. To see if Acrobat DC:2018 will give you better results, take your earlier PDFs from a few years back and remediate them in the current version of Acrobat DC, which has improved tools including its Autotag utility.
2. Fixing lousy PDFs is time consuming...and pure torture
Fixing PDFs after they are made is generally a painful, time-consuming, and expensive way to do things. Different software programs (and versions) have different tools that can make it less painful, less time-consuming, and less costly, but it's still painful, time-consuming, and costly.
No one has yet invented a magic wand that fixes lousy PDFs.
A saner strategy is to make better source documents, learn how to export an accessible PDF from the source file using the best tools, and then check and do minor fixes on the PDF.

Less pain.

Less time.

And less money.
3. The accessibility standards

Adobe created the Acrobat PDF format 30 years ago. It's now in the public domain with an ISO standard (PDF and PDF/UA) so that anyone can create PDF tools to that standard. Also, Adobe is the key player in maintaining and developing the PDF ISO standards, and is also a key player in maintaining and developing our international accessibility standards, such as WCAG and PDF/UA.

ISO standards for accessibility:
WCAG 2.0 = ISO 40500:2012
PDF/UA-1 = ISO 14289-1-2016
Adobe is not a perfect company, but it is a good company and it's safe to assume that they know a lot about Acrobat, the PDF standard, and accessibility.
There are only a handful of people in the world (not companies, but individuals) who can match that knowledge. Some of these people have companies that create competing PDF tools, good tools that we use in our shop.
But no company has created the magic wand to fix all PDFs quickly and easily. It still takes a human being to identify and fix some items.
4. Don't expect outdated software to do today's job.
The standards themselves are being tweaked and revised. The software tools are being expanded and fleshed out. And the former bugs in our tools and software are being corrected.
Current software
As of June 1, 2018:
Office 2016 ver. 1805
Office 365 ver. 1805
Adobe PDFMaker for Word ver. 18
Adobe PDF Producer / Adobe PDF Library ver. 15
Adobe Acrobat Pro CC:2018 ver. 18.011
Adobe InDesign CC:2018 ver. 13.1
Recommendations
Update your software, not just Acrobat but MS Office and the Adobe Creative Suite. Acrobat DC:2018 has a better accessibility checker than previous versions, as well as some improved tools and an updated PDFMaker plug-in for MS Office.
Have whoever is giving you untagged or poorly-tagged PDFs do a better job at their end. They need to learn how to create a compliant source file and then export it for accessibility with tags. Everyone needs to learn how to do this. It's a team effort.
Word templates that build in accessibility can greatly help your organization with their accessible documents. And don't hesitate to ask us to help create and test these templates!

If that's not possible, ask for the source file, fix it rather than the PDF, and then re-export it to an accessible PDF from the source program.
Finally, check and verify the PDF for compliance with Acrobat Pro DC:2018, PAC-3, or other tools.
Software for testing PDFs
Note: NetCentric has rescinded their licenses of CommonLook Global Access to commercial firms that either make or remediate PDFs, and instead suggests that their (now former) software customers use their remediation services instead. We regret that we no longer can recommend CommonLook Global Access. However, at this time CommonLook's Validator is still free and available.
Who's responsible for compliance?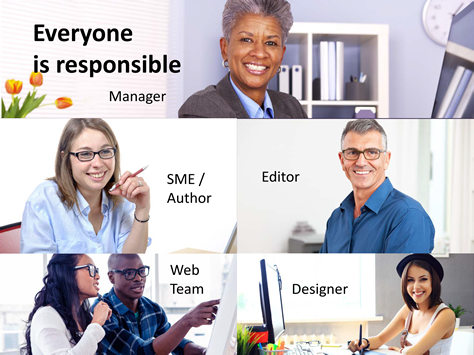 All of us are responsible for making sure our document files are fully accessible and Sec. 508 compliant.
PubCom's accessibility training and services
PubCom has a full array of courses on Sec. 508 topics as well as traditional desktop publishing, digital media, and website development. We started offering accessibility training in 2001. We're also publishing specialists and weave publishing management and workflow into our classes.
Sign up for our upcoming classes or we can bring a custom curriculum to your agency that can train your writers, editors, desktop publishers, and webmasters.

We also provide a full suite of tech support and remediation services to back up your workflow. From testing and remediation to backup production to custom templates for your staff to use. Learn about our services. We're there, and we're 100% accessible.
And lastly, our online bookstore gives you another way to learn from the best in the industry.
We're committed to making documents accessible for the nearly 35% of our fellow citizens who have disabilities that make it difficult for them to use computer technologies.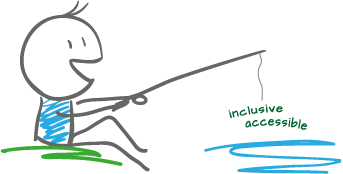 We teach how to make your documents accessible.
We teach how to fish!

— Bevi Chagnon
CEO and Founder, PubCom
June 2018