New Features in CC:2017 and Acrobat DC
In early November 2016, Adobe released updates to its Creative Cloud suite of programs. A few weeks before, Adobe updated Acrobat DC with new features, too.
We review the new features that will help you make accessible InDesign and PDF files.
Finally. Undo in Acrobat.
I bet this was the most-often requested feature on Adobe's Acrobat forums, at least from those who must make PDFs accessible. We can undo tag edits.
Now, when working the the Tags Panel, you can use one of the following to "undo":
Control + z (Windows)
Command + z (Mac)
Edit / Undo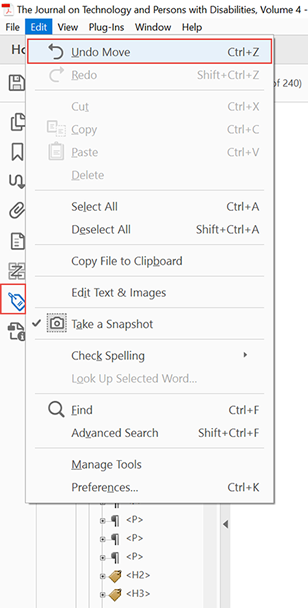 Undo is available only in the regular portion of Acrobat and the Tags Panel when working with accessible PDFs.
It doesn't work with the Order or Content panels.
Look for more accessibility improvements in Acrobat in the future.
InDesign CC:2017.0 brings some helpful new utilities.
Highlight manual overrides.
You know that manual formatting in InDesign layouts (and office documents, too) creates unnecessary code that can create "hiccups" for assistive technologies. (Hiccups are minor problems with the file that don't cause severe barriers for accessibility, but are annoying and can cause confusion and miscommunication, so we try to avoid them when possible.)
Manual formatting also embeds unnecessary <SPAN> tags in accessible PDFs and hardwires the formatting into the file, which in turn, prevents the file from transitioning to other media as seamlessly as possible.
Bottom line: manual formatting clunks up your file. Avoid it.
We now have a tool in InDesign that shows where manual overrides (aka, manual formatting) are in the layout file. This helps you spot them quickly and find a better way to get the visual design you want, such as using paragraph and character styles.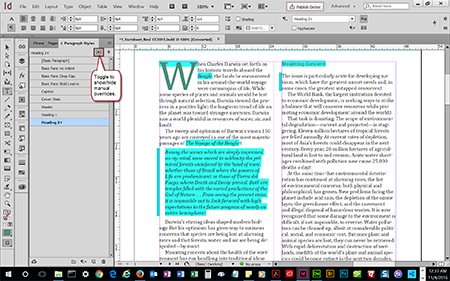 Paragraph Shading.
This cool setting in Paragraph Styles lets us apply a background tint to a paragraph of inline text.
This doesn't require a separate text frame to hold the paragraph; it's just another paragraph of text with a background in color. This tool helps avoid the problem we have at this time where anchored text frames don't convert into the correct semantic tags for accessibility.
Quick tool to format pull quotes, highlight text, headings in a "bar" or banner.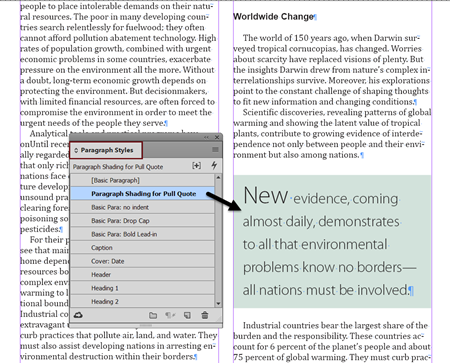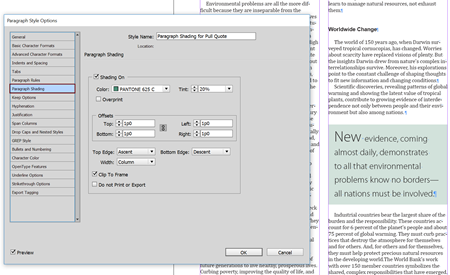 Footnotes span multiple columns
Traditionally, footnotes fall at the bottom of the column. This new feature lets you choose to have the span all the columns on the page. Adobe gives the details here: https://helpx.adobe.com/indesign/how-to/add-footnotes.html
Export settings for accessible PDFs
Released earlier this year, we now can set some PDF settings in InDesign's dialogue box for exporting to PDF. This speeds up our work by presetting some of the PDF File Properties for Title.
Choose either Interactive PDF or Print PDF and these options will be available. Of course, they do depend on a layout file that has been correctly structured and formatted with styles to produce the correct tags and reading order. And don't forget to set the File Info in InDesign so that the export settings can pick up the title.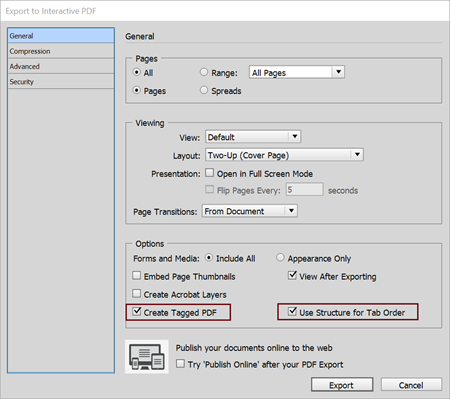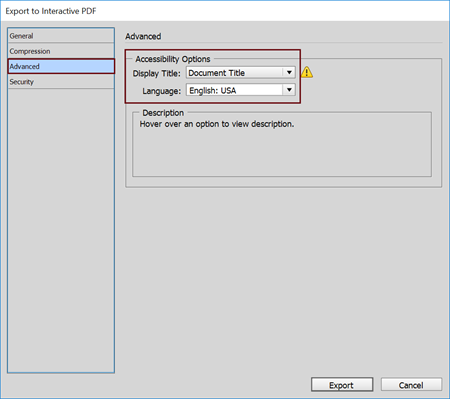 PubCom's training for accessible documents
PubCom has a full array of courses on Sec. 508 topics as well as traditional desktop publishing, digital media, and website development. We started offering accessibility training in 2001.
Sign up for our upcoming classes or we can bring a custom curriculum to your agency that can train your writers, editors, desktop publishers, and webmasters.
We're committed to making documents accessible for the nearly 35% of our fellow citizens who have disabilities that make it difficult for them to use computer technologies.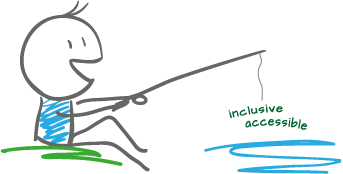 We teach how to make your documents accessible.
We teach how to fish!

— Bevi Chagnon
CEO and Founder, PubCom
August 2018