Acrobat Tutorial:


Adding Actual Text to Bullet Glyphs.

Using a unique bullet for lists can be very effective for sighted users.

But those who use screen readers or text-to-speech technologies might get an earful of "Black Right-Pointing Triangle" gibberish instead of "Bullet."

Here's how to correct that in Adobe Acrobat Pro.

Since Adobe InDesign and MS Office don't allow us to put actual text on these special "bullet" glyphs, assistive technologies attempt to voice the formal name of the glyph, like "Black Right-Pointing Triangle" (►) or "Upper Right Drop-Shadowed White Square."(❒).

Gah! What an earful of repetitive gibberish for those who listen to PDF documents.

Note: accessibility requires Actual Text on the bullet characters, not Alt Text.
1. Correct this in Adobe Acrobat Pro
You'll need a recent copy of Acrobat Pro on your computer to quickly correct the shortcoming and add Actual Text to all bullet gyphs, regardless of how they appear.
From Acrobat's Standards Panel, select Preflight and then PDF Standards from the top drop-down menue
Select the Profiles tab.
Select the blue wrench at the top. (Careful, this panel has more than one blue wrench icon and each performs a different task.)
Under the Document section, select "Set labels in unordered lists."
To execute the utility, click the Fix blue wrench in the lower right of the panel.
That's all it takes to correct all the glyphs in all the bulleted lists in your PDF file. So quick!

Learn to fish. Save money. Time. Hassle.
Our services help you maximize your technology, streamline your workflow, and seamlessly build accessibility into your digital publications. Our mission is to train and coach you so well that you no longer need us or remediation services.
By teaching you how to fish — and make accessible PDFs right out of the box — we hope to work ourselves out of our jobs!
PubCom has a full array of courses on accessibility topics, as well as traditional desktop publishing, digital media, and website development. We started offering accessibility training to the federal government in 2001 right after Section 508 and WCAG 1.0 went into effect in the US. That was 20+ years ago and we haven't stopped yet!
We're committed to making documents accessible for government, academia, and industry. Nearly 35% of our fellow citizens have disabilities or impairments that make it difficult to use technologies, and they depend on our work.
Sign up for
our upcoming classes
or we can bring a
custom curriculum
to your organization that can train your writers, editors, desktop publishers, media designers, accessibility techs, and webmasters. Plus, we provide back-office
accessibility services
.
The takeaway: we know publishing, from editorial to design to distribution (print and digital) — and we're accessibility experts (Bevi Chagnon is a delegate to the ISO committees for PDF accessibility). We share our knowledge and help you learn to fish. Our little fisherman keeps us on our goal to retirement … someday! Well, maybe. One can dream.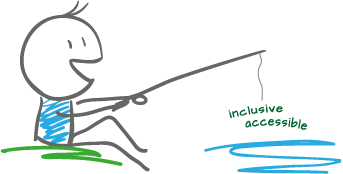 We teach how to make your documents accessible.
We teach how to fish!

Drop us a line and let us know how we can help.