Upcoming Events
Bevi Chagnon is a frequent presenter at industry conferences, seminars, and workshops.
White our schedule is being set for upcoming spring, summer and fall events, here are previous industry conferences and seminars.
PDF Day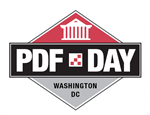 January 29, 2018
Washington DC
Sponsored by the PDF Association and the National Archives and Records Administration (NARA), PDF Dayis Washington's top forum for leveraging the PDF format in government and business.
The educational sesssions are taught by top-level industry professionals. See the PDF Day webpage.
PubCom's Bevi Chagnon presented a morning session on Managing Sec. 508 in government and industry.
Download copes of her presentations:

PubCom is a member of the PDF Association and its PDF/UA Competence Center
Accessing Higher Ground
November 13–17, 2017
Westminster CO (Denver)
AHG is the industry's top conference for accessibility in academic settings. Topics sessions include hands-on workshops in making and testing accessibile PDFs, office documents, and websites.
Bevi Chagnon had several presentations on Sec. 508 topics for academia and a full-day workshop on creating accessible PDfs from Adobe InDesign.
See the AHG conference webpage.

PubCom is a member of AHEAD.
Federal Publishing Council

Hosted by GPO, the Council is an advisor to federal agencies on publishing issues.
Bevi Chagnon is a regular presenter at the monthly council sessions, covering publishing technology, hands-on training, and Sec. 508 accessibility requirements.
PubCom has been a GPO contractor for more than 25 years.
Other industry events:
The InDesign Conference | CreativePro