Publishers, Designers, and Adobe's Creative Cloud:
Software Choices in FY 2014
You're probably aware of the current brouhaha regarding Adobe's recent change in its software pricing and availability. Here is a brief backgrounder to help you plan your future software upgrades.
By Bevi Chagnon, PubCom
September 2013
Part 1

— Overview of the Creative Cloud
Adobe Creative Cloud — CC
The Creative Suite (CS) used by graphic designers, desktop publishers, artists, photographers, and web developers has now become the Creative Cloud, a subscription-only suite of programs from Adobe. It includes most of Adobe's creative programs:
InDesign CC
Photoshop CC
Acrobat XI
Dreamweaver CC
Premiere Pro CC
After Effects CC
InCopy CC
Bridge CC
Flash CC
Lightroom
And several more programs
Similar to the previous Master Collection, Creative Cloud (CC) makes the bulk of Adobe's creative development tools available to subscribers. For a complete list, see http://www.adobe.com/products/creativecloud/tools-and-services.html
CC means subscribing to the software programs rather than purchasing the latest version at your discretion as you did before (now called a perpetual license).
Here's how CC works:
Subscribe to the complete plan billed at $49.99/month (with promotional pricing at $29.99/month) and have access to all the Creative Cloud programs.
Or subscribe to just one or more programs on a month-to-month basis at $19.99/month (with new promotional prices expected to be $10/month).
If you subscribe to the complete suite of programs, you can install, update, and uninstall any of the programs in the plan whenever you need to. For example, if you need to use Premiere for only a month on a client's project, install the software, use it, and then uninstall it. Or keep it installed, it's your choice. That's one of the benefits of the full Creative Cloud plan: use any of the programs for as long as you'd like whenever you need them.
You can use any of the services that are part of the CC plan, including online storage, file syncing, Behance, and Typekit fonts.
The software is installed on your computer rather than run from the cloud as with traditional "cloud computing." You do not need an Internet connection in order to run the software, except as noted in the next bullet.
An Internet connection is needed only when the software checks for your paid subscription once a month. This is similar to your cable and cell phone service: if your monthly bill goes unpaid, the software will be temporarily suspended until your account is paid.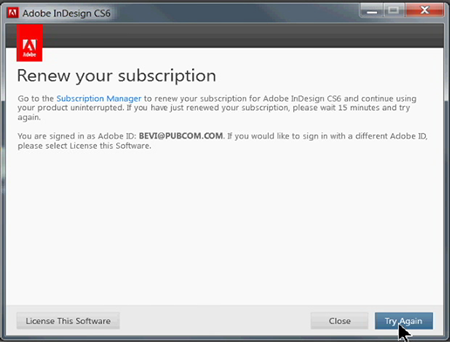 If your account is suspended, your creative files stored on your computer will not be affected: they're still there and usable on another computer. However, any files stored online will not be accessible.
Your secure, sensitive files are still secure. If your organization or client has secure material, do not choose the option to synchronize your files with Adobe's servers, and do not use Adobe's cloud storage service either. Keep your working files on your server, computer, and backup drives as before where you have total control over them. Remember, Creative Cloud is not cloud computing. (Creative "Cloud" was a very poor choice of words by Adobe's marketing department: I explain the distinction daily to government and corporate clients.)
As new software versions, updates, and bug fixes are released, they are immediately available to CC subscribers. You are notified about the update and can choose when to install it.
Maintaining your account, installing and updating software, and accessing special services is done through a new utility on your computer, Creative Cloud Manager.
Different plans and pricing are available. See http://www.adobe.com/products/creativecloud/buying-guide-at-a-glance.html Note the discounts available for new subscribers who currently own CS3 and later versions.
All CS6 software versions as well as Acrobat X are now "dead" or "put out to pasture."
They're not officially discontinued, but no new features will be added to these versions.
You're free to install your CS licenses and use them on your computer for as long as they are compatible with your operating system and still run.
New features will be added only to CC and forthcoming Acrobat versions, not to CS versions and Acrobat X.
You can install different versions of each program on your computer — such as InDesign CS5, CS6, and CC — but I don't advise launching them at the same time. Exception: only one version of Acrobat Standard or Pro can be installed on the computer.
A Creative Cloud subscription is required to use the CC versions of the programs, except for Acrobat.
The CC programs are available only with a subscription to the Creative Cloud. You cannot purchase a "perpetual" (aka, "traditional") CC version from Adobe. Therefore, if a feature you need is only in a CC version, you will need to subscribe to the Creative Cloud to have that feature.
Acrobat XI, however, is also available as a separate perpetual license without a CC subscription, as well as being part of the Creative Cloud complete plan. This benefits enterprises that only need Acrobat XI and not the other programs.
Creative Cloud has flexible options for small businesses and large enterprises.
Each license allows two installations per user. That means you can install your one license on both a Mac and a Windows computer, or on a desktop computer and a laptop. But keep in mind that the two installations cannot run simultaneously. Only one version can be running at any time.
You can subscribe to any individual program in the Creative Cloud lineup on a month-to-month or annual plan. Subscription rates are cheaper for individual programs than for the entire collection. This is helpful for those times when you need to use software for a short-term project.
Team licenses are available with added benefits for groups, such as more storage space and reassignable seat licenses. This lets you assign software licenses to various members of a publishing team and reassign the licenses as needed.
For more information, see "The Myths of Adobe Creative Cloud" at Adobe TV, http://tv.adobe.com/watch/learn-creative-cloud/the-myths-of-adobe-creative-cloud/ or visit Adobe's Creative Cloud website at http://www.adobe.com/products/creativecloud.html
— Bevi Chagnon
Founding Partner, PubCom
September 2013

Your Comments
These are my thoughts and experiences with Adobe's Creative Cloud. Any from you? Leave a comment on our Facebook page.
www.facebook.com/pages/Takoma-Park-MD/PubCom/139231069223