About Us
Targeted Training.
Expert Consulting.
Top of the line Accessibility Services.
Outstanding Design Services.
PubCom has a complete suite of services and tools for professionals in website development, desktop publishing, cross-media publishing, government print procurement and accessibility.
Based in metropolitan Washington, DC, PubCom specializes in publishing technologies for government agencies, non-profit organizations, and corporations, focusing on the Internet, PDFs, and Section 508 accessibility.
We Help You Get Your Ideas Out
We're not only consultants for the industry, we're also accomplished designers and developers with our own in-house design studio, i-Imagery information architects. That means we know every phase of publishing—multimedia, traditional print publications, Internet, Sec. 508 accessibility, database publications, PDFs, EPUBs, and electronic documents. We can help you use the latest technologies to "get your ideas out" efficiently, effectively, and in an accessible format.
We can set up a complete publishing solution, using professionally-designed templates in Adobe InDesign and MS Office, and train your staff so you can "do it yourself." Or we can design and develop your projects at our studio.
We tailor our services to your needs. Need some on-site hand-holding while you produce your first project? We can provide on-site mentors to work with your staff so you can meet your deadlines.
Full service. Expertise. Top quality.
That sums up PubCom.
•> View a partial list of our clients.
Founding Partner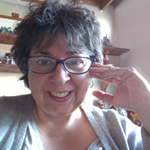 Bevi Chagnon, PubCom's founding partner, head honcho, and creative director is a frequent contributor on publishing technology on several local and national tech lists. She started her design studio in 1981 and formed PubCom (the training and consulting arm) in 1985, just as desktop publishing was becoming viable.
Today she heads up a hand-picked team of colleagues to provide you with the best minds in the industry. Bevi continues to design, teach, write, and tinker with the studio's computers ... her true passions in life.